Ana Isabel Villanueva Brandt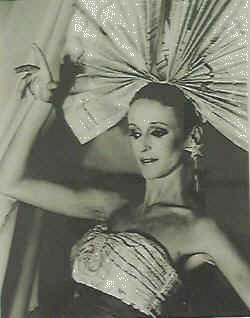 1950'S
Born in Caracas Venezuela on 8th of July 1954 in a very artistic environment.
1960'S
High School Studies at the Assumption Convent in Suffolk England. Art and History of Art A Levels.
Ballet, Art, Drama Dance and Music studies in Venezuela, England, Hungary.
1970'S
Studies
Psychology at the Catholic University of Caracas
Sociology and Political Science for Underdeveloped Countries at Essex University, England.
Taoism at the Ecole Practique des Hautes Etudes Sorbonne, Paris.France.

Management at IESA Caracas Venezuela.
Contemporary Dance. Macrodanza Caracas.Venezuela, Paris France.
Working Experience
Assistant to Clara Diament de Sujo's Art Gallery in Caracas Estudio Actual.

Assistant to Dr Julio Aray in the field of Psychoanalysis.
Lay Out in the Union of Students Essex University Magazine.


1980's
Contemporary dancer and dance teacher.
Part of the Venezuelan Avant-.Garde
Performance and Video Art Artist. Actress and Model
Places in Venezuela performances were shown.
Caracas:
Sala Mendoza
Espacios Calidos Gallery
Ana Julia Rojas Theater,
Sala de Conciertos Atheneum of Caracas
Municipal Theater
CELARG
Metropolitan Studio for Visual Arts
Sotavento Gallery
National Art Gallery
Contemporary Art Museum Sofia Imber
Fine Arts Museum

Maracaibo:
Museum of Contemporary Art Lya Bermudez.
In London:
Astoria Theater
In Paris
Beauburg Centre Pompidou

In Valladolid: (Spain)
Patio Herrerriano Festival Internacional de Teatro.

Artists collaborating in performances:
Venezuela:

Domingo Alvarez
Oscar Armitano
Diego Barbosa
Milton Becerra
Mary Brandt
Maria Elisa Castro
Sammy Cucher
Tulio Diaz
Jose Antonio Hernandez Diez
Felipe Marquez
Gabriel Morera
Miguel Noya
Alejandro Otero.

Chile:

Jacqueline Fresard
Rainer Hauser

England:
Jennifer Binnie
Tom Dixon
Test Department

Brasil:
Celeida Tostes

Trinidad:
Valerie Brathwite

Collaborating Film Directors :

Venezuela:
Carlos Castillo
Sammy Cucher,
Nan Gonzalez,
Stephano Gramitto
Jose Antonio Hernandez Diez
Nela Ochoa,
Carlos Oteyza,
Mariana Piekarski
Diego Risquez.

Chile:
Gonzalo Justiniano,
Veronica Vega

England:
Steve Chivers,
Nick Turvey

Collaborating Photographers :

Venezuela:
Esso Alvarez
Rodrigo Benavides
Raquel Cisneros
Sammy Cucher
Blas Pifano
Alberto Ramirez
Julio Vengoechea
Carlos Villanueva

England:
Mark Prizeman
William Pounds

USA
Gene Jacob
Brad Hallock
Founded Art Cooperative Spin with Miguel Noya,
Veronica Vega and Sammy Cucher.
Model of Angel Sanchez, Margarita Zinc, Hernan Suarez. Mariadelina Vera y Maria Elena Roque Venezuelan fashion designers.
Actress. In Feature Films and Art Videos.

1990's & 2000's
Designer and Builder of a Mud House in the National Park Henri Pitter Venezuela.

Founder and Coordinator of Pro-Diseno Graphic Design School in Caracas.
Curator of Art Exhibitions:
Drawings and Engravings of Mary Brandt Sala Mendoza Caracas

TRIACA. Tulio Diaz Sala Alternativa Caracas

El Monte Traga Jacqueline Fresard and Ani Villanueva Choroni Studio Venezuela

Mary Brandt's Retrospective. National Art Gallery Caracas.
Visual Arts
Solo Shows

2007

Reflexiones. Alternativa Elvira Neri Galeria de Arte. Caracas

2005

+ Casos. Alianza Francesa La Castellana y Chacaito. Caracas

2004

Casos de Cosas. Alternativa Elvira Neri. Galeria de Arte. Caracas.

Casos de Moda Alternativa Elvira Neri Galeria de Arte. Museo de Bellas Artes. Como en la Tele.
2002
Use-less Objects. Kracer Art Gallery. Miami.

Sor Juana Ines de la Cruz. Performance Miami Art Museum Miami.

2001
Garlands Digital Photography and performance. South Art Gallery Miami.

Small Works Paintings Portobello- South Art Gallery.

1998
Tropicalia Sacred Grounds Bettcher Gallery Miami Beach.

1996
Peces y Demas Hierbas Cesar Sassoon Gallery Centro Lido Caracas.

1995
Peces Monteavila Gallery Teresa Carreno Caracas.

1994
Alamar Galeria K Caracas.

1993
Paintings Palio Gallery Caracas
Group Shows
2007
Pinta International Art Fair New York Altenativa Elvira Neri
I D Performance Objetiva Fundacion Cultural Chacao Caracas
Entre Cajas. Subasta Capuy. Caracas
Fundana Subasta Ciudad Banesco Caracas
Fia International Art Fair Caracas Alternativa Elvira Neri
Contrastes de Forma. Odalys Galeria de Arte. Caracas
2006
Cachifashion. National Gallery GAN. II Corporal Art Encounter.
Cachifashion. New Media Festival. Hardcore Gallery Miami.
Fia International Art Fair. Alternativa Elvira Neri. Caracas.
Paralelos Espaciales. Altenativa Elvira Neri Art Gallery Caracas.
Pixeles Galeria El Espacio Caracas
Venezolanisimos Exposicion de Fotografias Instituto Goethe Museo Michelena Caracas
2005
Salon Aragua Museo de Arte Contemporaneo Mario Abreu de Maracay. Venezuela
Samples and Dishes. Hardcore Gallery Miami.
Living Space. Miami Dade Community College Gallery Kendal Campus. Miami.
Colectiva Dec 2005. Alternativa Elvira Neri Galeria de Arte. Caracas.
VIII Bienal Nacional de Escultura Francisco Narvaez, Museo Narvaez Porlamar. Isla de Margarita Venezuela.
Occurences Fundacion de Arte Emergente Hardcore Art Gallery . Chicago.
Line Color Form Galeria Solar East Hamptons New York.
Primer Encuentro Mundial de Arte Corporal Museo de Bellas Artes, Galeria de Arte Nacional y Teatro Teresa Carreno Caracas
Jaffco Charity Show. Solar Gallery Fort Lauredale.
Blanco sobre Blanco Galeria 1800 Caracas.
Infinitos. GAAS Caracas.
Mega Exposicion Museo Alejandro Otero. Caracas
Art Caracas Alternativa Elvira Neri Galeria de Arte.
Subasta Socieven. Caracas Country Club.
Made in Venezuela ACC Studio South Beach. Miami.
Art Miami Altenativa Elvira Neri Galeria de Arte. Miami.
2004
Personal Pop.Galeria Zero Caracas.
Subasta de Arte. Fabiola Arroyo's Project .Como en la Tele. Museo de Bellas Artes. Caracas
Trends II Curator Milagros Bello. Arte Americas. Merril Lynch. Coconut Grove Convention Center.
Miami Art Fair. Alternativa Elvira Neri Art Gallery
2003
Artists from the Gallery. Alternativa Elvira Neri Gallery
Mares. El Solar Art Gallery East Hamptons. NY
Kracer Art Gallery. Miami
Tallers Oberts FAD Barcelona Spain
Mexico City Art Fair. Alternativa Elvira Neri Art Gallery
Art in Americas Trends Coconut Grove
Miami Art Fair. Currents. Alternativa Elvira Neri Art Gallery
2002
Heart Art, Galleria One Off. Torino, Italy

Latin American Art Expressions .City of Miami Beach. Department of Arts and Culture.

Women Artists. City of Miami. Administrative Building. Riverside. Miami.

Amazonas. Venezuelan Consulate. New York

Sugar Free. Puffin Room. New York.

2001
The Bake House Juried Show.Juror Frederic Snitzer. Bake House Art Gallery.

Living in Miami. Silvana Facchini Gallery, Miami.

A Treat of Light, Silvana Facchini Gallery, Miami

2000
Still Life and Flowers. Mayfair Gallery. Coconut Grove.

Palm Show.Miami Beach Conservatory.

Sensual Nature Artsforum Gallery,New York

1999

Small Works, Artsforum Gallery, New York.

Art Center La Cuadra. Caracas

MG Art Gallery Caracas

1998
MG Art Gallery Caracas

Auction Show Corp Bank Art Gallery Caracas.

Revolutionary Pop Goodman and Conde Gallery.Design District. Miami.

1997
Valor Arte Gallery Caracas.

1996
Lipton Cup Exhibit Valor ArteGallery Miami.

Auction Show Contemporary Art Museum Jacobo Borges Caracas.

1995
International Art Fair FIA. D.Museo Gallery Caracas

Michelena Juried Show. Valencia's Atheneum Venezuela.

D'Museo Gallery Caracas.

1994
Nuestros Santos de Cada Dia Paninoteca Gallery Caracas

Biennial Show of Caribbean Painting. Contemporary Art Museum of Santo Domingo.

Guayana Biennial Show. Centro de las Artes Ciudad Bolivar Venezuela.

Galeria K Caracas.

1993

K Gallery Caracas

1992

El Monte Traga Choroni Studio Venezuela

Publications:
1992
Estilo Art Magazine Caracas.
1993
Estilo Art Magazine Caracas.
1997
Recording of Sound Performance in CD Caracas Underground. Buena Nota Recording Studios.
1999
Gallery Guide New York March
Art Now Internet Art Directory. Summer and Fall
Art Market Magazine
July September
October December
2001
Miami Art Exchange.
Gallery Guide

2002
Sun Sentinel
Arte al Dia Newspaper

2003
Arte al Dia Newspaper
Art Nexus Magazine
East Hamptons Magazine

2004

Miami Art Fair Catalogue
Art of Americas Catalogue
Arte al Dia NewspaperTrends 2
Arte al Dia Newspaper Casos de Cosas
El Nacional Literary Paper. Los Casos de Cosas de Ani Villanueva. Victor Guedez
Analitica .Com

2005

Art Nexus Cronicas

---

Awards:

First Award VIII Bienal Nacional de Escultura Francisco Narvaez 2005

Non-Object Art Award, Salon Michelena, Valencia. Performance School of Athens, Direction Diego Barbosa.1985

First Award in the Brussels Art Video Festival. Eneas Dream, Direction Sammy Cucher.1987

Graphic Design Award for the Bio Tours Brochure. Collaboration with Pedro Mancilla.1988